x
Thank you for submitting an inquiry. We will get back to you with 24 hours.
Royal Caribbean International
Royal Caribbean International is a leading, innovative cruise vacation company. Our guests are active travelers who are looking for new experiences, a wide array of choices for the whole family, and a great vacation value. From activities onboard our ships like rock climbing, surfing and ice skating to shoreside adventures like glacier trekking and exploring Mayan ruins, we provide an experience that lets our guests see and do more than they ever imagined in places all over the globe. Our brand is distinguished by our Gold Anchor Service, energizing onboard and shoreside adventures, the most amazing and innovative ships, and remarkable destinations all over the world. Whether it's a 3-night getaway, a longer 14-night vacation, or something in between, Royal Caribbean provides an amazing vacation experience.
What's Included?
Accommodations: Spacious, comfortable accommodations for everyone — from solo travelers to groups of up to 14 guests. Virtual Balcony SM staterooms bring stunning HD views from the outside into your room. Twice daily housekeeping and turndown service. Accessible accommodations on every ship. Choose from the most balconies in the Caribbean and the only interior-facing neighborhood balconies in the industry.
Dining: Main dining room with savory multicourse feasts each night. Breakfast, lunch, dinner and snacks in various venues throughout each ship. Windjammer casual buffet on every ship, open for every meal. Variety of juices, teas, coffees, soft drinks and water throughout the ship and with meals.
Entertainment: • Hit Broadway shows including the musical Grease, CATS, Mamma Mia!, We Will Rock You and Saturday Night Fever. Live music and comedy shows. Aqua shows and ice-skating shows. Parades and parties on the Royal Promenade. Comedy and live jazz club. Nightclubs, karaoke and sing-along piano bars.
Pools and Activities: Outdoor poolside movies. Adults-only Solarium, a tranquil covered retreat just for grown-ups, with loungers and whirlpools. Multiple whirlpools for kids and adults alike. Traditional swimming pools plus beach ambience areas and sports zones. State-of-the-art fitness center, with massage and spa services available on every ship • Table tennis • Full-size basketball and sports court • Group fitness classes, such as sunrise stretch, fab abs, dancing, meditation and more • Seminars on topics like weight loss, reflexology, stargazing and more.
Kids and Teens: Award-winning Adventure Ocean® Youth Program with educational, engaging activities. Totally reimagined spaces for kids and hangouts exclusively for teens. Glow-in-the-dark laser tag challenges. And much more.
Current Promotions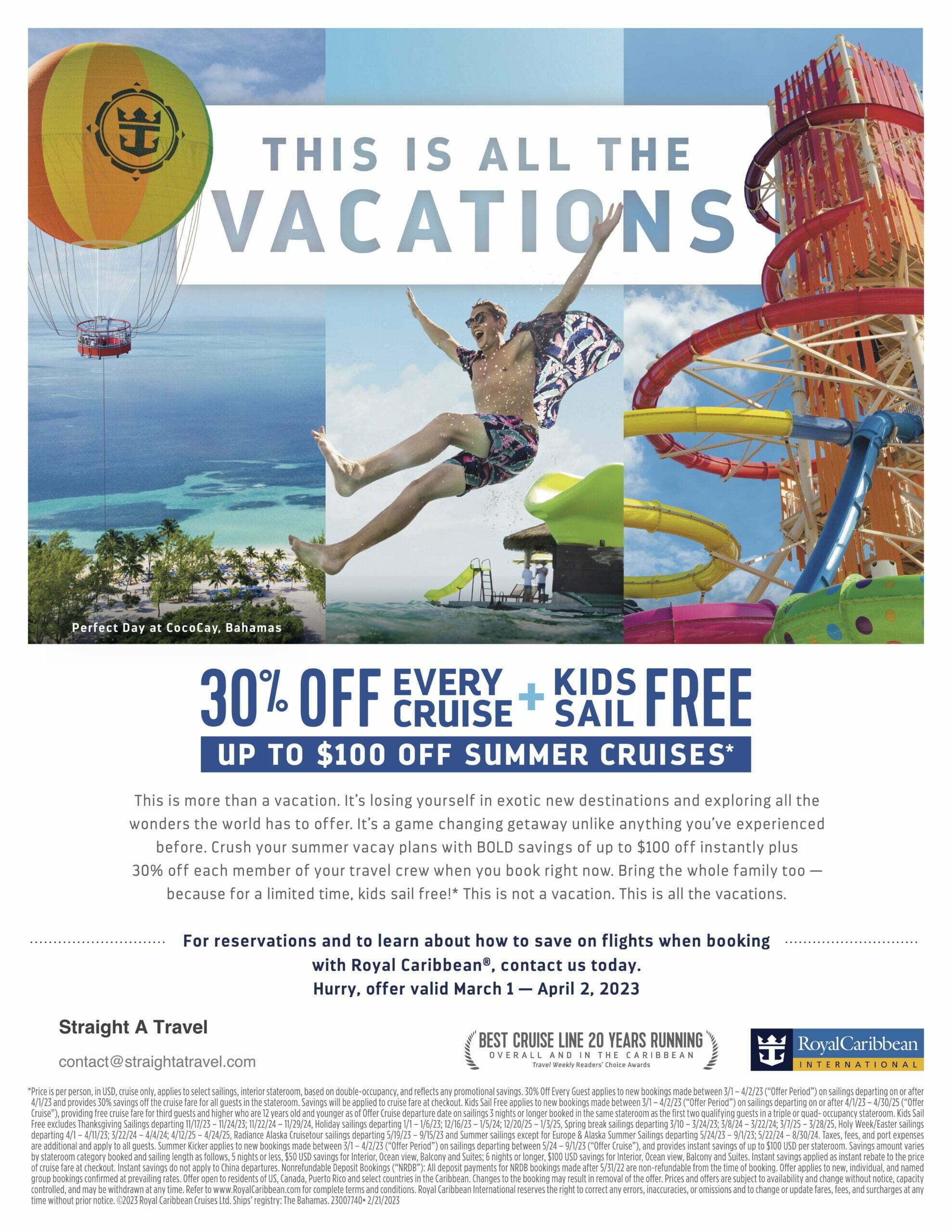 